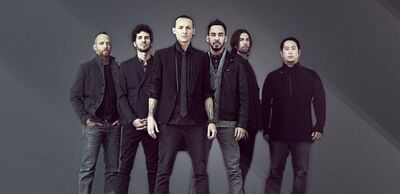 Linkin Park
is an American rock band. Their name is a play on Santa Monica's Lincoln Park. They have released five albums:
Hybrid Theory
, in 2000, 
Meteora
, in 2003,
Minutes to Midnight
, in 2007, A
Thousand Suns
, in 2010, and
Living Things
, in 2012. On June 13, 2014, they will release their sixth album,
The Hunting Party
.
Ad blocker interference detected!
Wikia is a free-to-use site that makes money from advertising. We have a modified experience for viewers using ad blockers

Wikia is not accessible if you've made further modifications. Remove the custom ad blocker rule(s) and the page will load as expected.