The Fantastic Four is a team of Superheroes. Unlike the Teen Titans, Avengers, Sinister Six, X-Men, Justice League and every other Super Hero Team, it is the only one whose members are always consistent.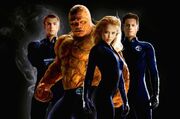 If the 5 Stars were Fantastic Four characters:
Joeaikman would be Mr Fantastic
Nikki Lee would be Invisible Woman
Tanner would be The Human Torch
Slice would be The Thing
Left 4 Speed would be Dr. Doom
Ad blocker interference detected!
Wikia is a free-to-use site that makes money from advertising. We have a modified experience for viewers using ad blockers

Wikia is not accessible if you've made further modifications. Remove the custom ad blocker rule(s) and the page will load as expected.